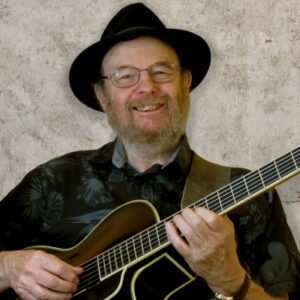 John Girton is well known throughout the world for his work as lead guitarist with the group "Dan Hicks and the Hot Licks." John recorded 3 albums with the group, and also wrote and arranged material for them. He was also featured as guitarist, saxophonist, clarinetist, and occasional mandolinist with the popular vocalist, Maria Muldaur for many years.
After numerous international tours, John started his own group in the San Francisco area. This group, the "Girtones" played a blend of Jazz, Swing and Blues in Oregon and California, sometimes including singer Maria Muldaur as a member. John has made several solo tours of England, where he performed in concerts and clubs throughout the country. In recent years he has performed with such groups as "Backwoods Jazz", the "George Souza Band", and is quite active in the Nevada County Music scene.
He currently performs solo jazz guitar at various venues in the Foothills area of California and has recently released a new CD called "You Are There", which was produced at John's "Nugget Studios" in Grass Valley, CA. John has been playing music professionally for over 20 years as an instrumentalist, vocalist, recording artist, studio musician, and composer. His original songs are a mixture of jazz, swing, blues and folk music, with a bit of humor thrown in for good measure.